For those who know me well enough (or at least read my blog), surely have a understanding about how spoilt my taste buds are.
It's not that I'm a choosy eater or some kinda ew-I-don't-eat-that but, it's just that I really crave for tastes and smells and flavours that I like.
And for those who really know me well, they sure know that I have a special 'thing' for laksa.
Yup, laksa as in Asam Laksa, or more precisely, Penang Asam Laksa.
Asam laksa has been more than just a cuisine or food in Penang, it has become a lifestyle.
Ask any Penangites, they will have to admit that 'eh, let's go eat laksa and cendul' is like 'eh let's go for mamak' in KL eventhough not all Penangites fancy laksa (but i assure u, most of them do!)
So what's so special about this laksa thing? It's just a bowl of white thick smooth noodles with boiled-ikan-kembung (or sardine, in some cases) gravy. Well it's more than words for me to describe to u how amazing this thing can be. If u happen to be a hot-and-spicy-and-sour-food-fancier, u should go and check it out urself (if u haven't, lol)
Basically, this post, is to distinguish and explain, the differences of the asam laksa in Penang Island and Seberang Perai (the mainland).
Or I'll just lower the scope to the differences of the asam laksa in Penang Island and Nibong Tebal (my hometown).
Well basically I only realise the fact that, "not every food court has got a asam laksa stall" when I started to go to other states' food court often when I was 15 or something.
It's just that it's so common in Penang that every food court will at least have a laksa stall (though not all taste good)
and at the age of 16, I started my holiday part time working in a famous laksa stall in Nibong Tebal and thus allowed me to have more profound views about this amazing bowl of noodle.
Ok let's cut the introduction.
The common things about laksa in Penang and Seberang Perai are:
a. The gravy are red in colour and are boiled from ikan kembung or sardine and asam (tamarind) and chilies and some other unknown spices.
b. It's sour
c. It consists of laksa noodle (vermicelli), onion slices, cucumber slices and lettuces slices. It's then topped with laksa flower (torch ginger) and mints and chili padi.
d. Hε-ko, a thick sweet prawn paste, is necessary to be added to give a distinctive taste to it.
e. It's best to serve cendul or ice kacang together with laksa.
f. It's tasty (ok this is subjective)
The difference between them:
a. Penang laksa consists of pineapple slices, the laksa in Seberang Perai usually don't.
b. Most seberang Perai laksa has crackers as topping whereas Penang one doesn't.
c. Penang laksa is more to the sweet and sour and spicy type but Seberang one is more to the spicy and sour and salty type.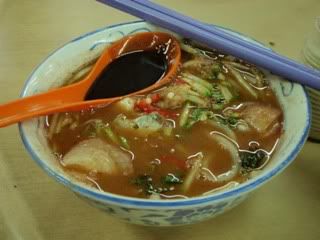 This is common Penang Island laksa
This is Nibong Tebal laksa with cracker toppings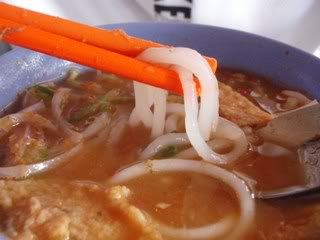 The noodle.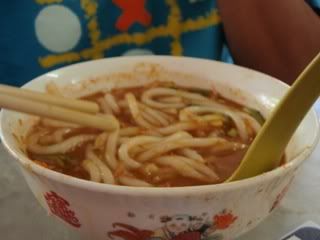 Pulau Tikus laksa @ Penang Island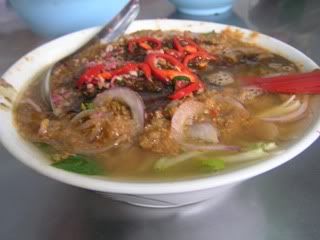 Air Itam laksa @ Penang Island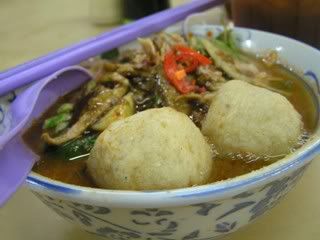 Jalan Perak laksa @ Penang Island (Specialty: fish balls are added!)
Ok let me show u some photo of the separate ingredients for laksa.
Onion, cucumber and lettuce slices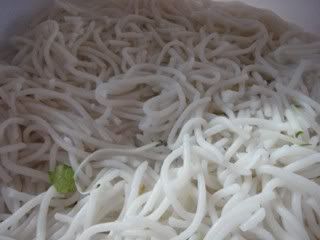 The noodle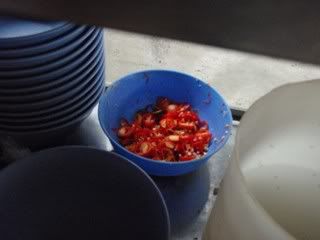 Chili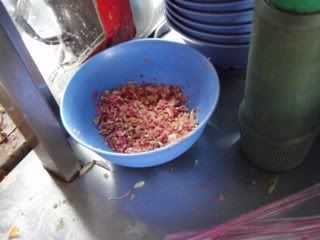 Ginger flower
The boiling gravy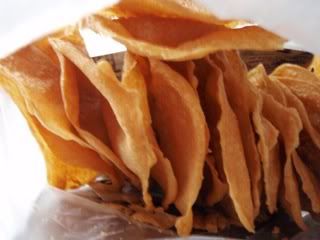 Crackers (in Nibong Tebal)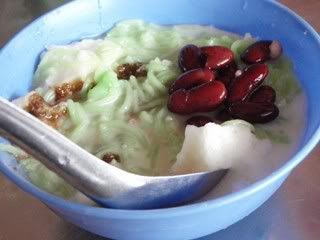 Best served with cendul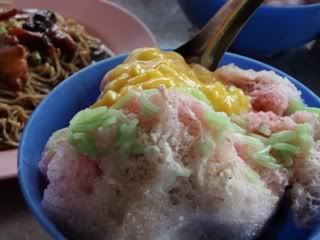 or Ice Kacang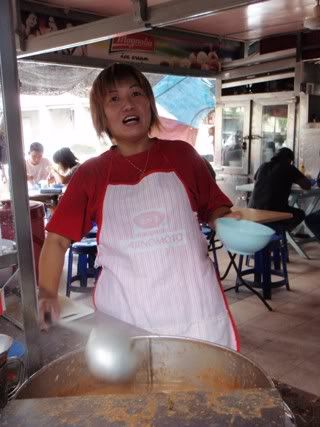 This is my tauke sor whom I worked for 2 months. She got a secret recipe for the gravy! :D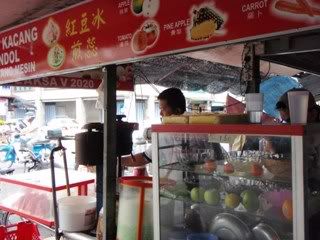 Tauke! lol. Selling laksa and beverages together is surely a good idea! ;)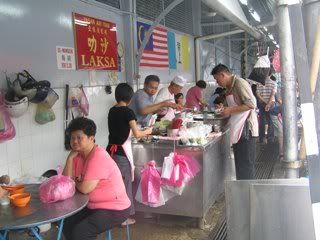 This is the very famous air itam laksa stall in Penang island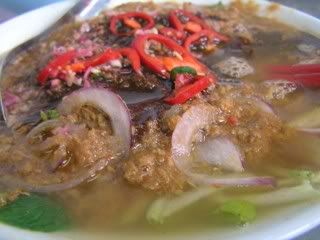 Tempted? Go Penang la. Don't even bother trying KL one. The most similar taste I could get is in Pasar Seni and that, wasn't even close.
and I wonder, is there anyone gonna invent laksa jacuzzi? lol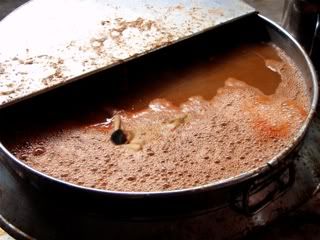 I'll go for it. hahahaha :D