It has been a well-known fact among the people that the petrol price will go up after the election.
However the great rising of the opposition has somehow made things chaotic and messy in the government and I guess that's why the government by hook or by crook, maintain the same petrol price for like 3 months?
Eventually, the prime minister announced the hike of the petrol price today (commencing on 00:00, 5 June):
From RM1.92 to RM2.70 per liter
A hike of 40%.
The numbers don't lie.
but they HURT!
Come to think of it, usually I fill my car RM50, which is 50/1.92= 26.04 liter (880.518 ounces)
Now, the same volume 26.04 liter will cost RM70.30
A freaking increase of 20 ringgit!!!
The only thing to do is to full-tank my car, which I did.
and it was my most adventurous trip to the gas station.
There was traffic jam in every road which has gas station alongside and people started to drive on the opposite lane. I met car which tried to overtake me by poking the front of their cars to mine and they gave up at last coz they saw a car with 6 guys in it. (lol! Malaysian!)
After one and a half hour, yeah seriously, bloody 90 minutes! I drove like insane around Setapak (with another 5 friends in my car holding their bladder) to find a least dense gas station and I finally found 1 with less than 30 cars! (Yeah, others are more than that!) I got my 60 ringgit oil and I drove straight back home.
and the petrol station behind my condo, was full of cars from the time the news was announced until now, 10:43pm.
Here are some photo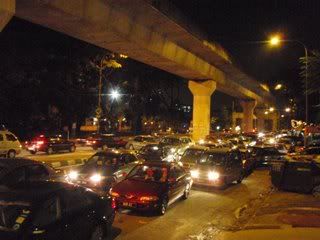 Traffic Jam!!!!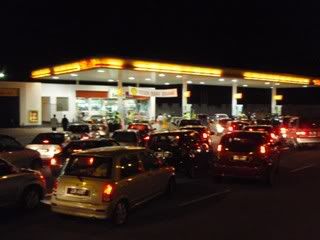 Less than 30 cars!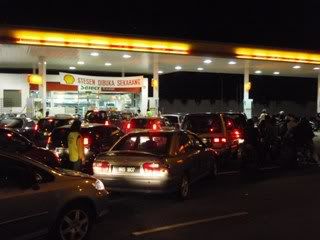 Even the gas station workers did the traffic police's job!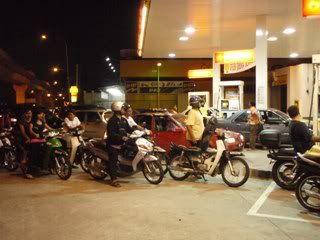 There was even one motorcyclist brought a huge bucket to store petrol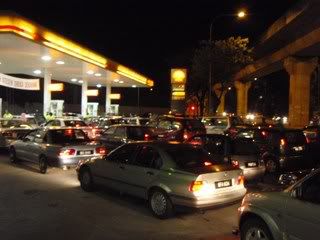 Joining the hunger-for-petrol bandwagon! LOL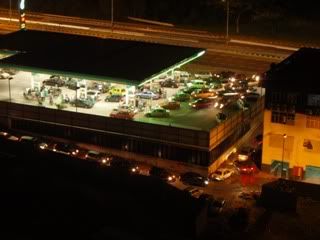 People flocking in the station behind my house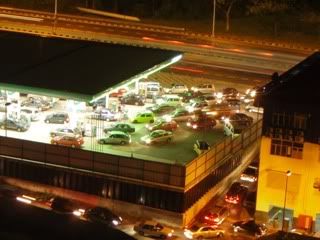 Petrol-craze
Next time, I'll have to think twice and think thrice before I put myself behind the wheel.