I kinda have a 'thing' for exotic pet like, a python, tarantula or lizard.
But I don't keep them because u know, it's costly and it's never a good idea to bring them on the bus riding home (now imagine taking a 4 hour bus home with a python strangle on ur neck!). lol!
Anyway, I love insects too. Those crawling or flying six leg tiny creatures that can appear out of nowhere.
So I'm keeping praying mantis as my pet.
There're a few reasons for me to do so:
1. Praying mantises are interesting when they are eating. I enjoy seeing those creatures tearing their preys apart and eat them raw and alive! (somehow reveal the violence traits in me. lol)
2. They are easy to keep and bring around. (I almost bring my mantis along to Kuching!)
3. They don't need accompaniment or carassing or extra care. All u have to provide is food!
4. They don't bark at u.
5. You don't need to bath them.
6. You don't need to pick up their shit or afraid that they'll pee on u.
7. They come to me automatically:
First encouter: November 2004. It came to my car porch back in my home in Penang. I kept it for 3 months and freed it. I called it the green one.
http://kaevin.blogspot.com/2004/11/flies-never-die.html
2nd: May 2007. It flew to the car porch in my Penang home too.
http://kaevin.blogspot.com/2007/06/mia.html. It died after one month. I called it the red one.
3rd: 27 March 2008. 2 baby mantis nymph flew to my Japanese text book when I was having Jap class in UTAR. One drowned and one survived until last Saturday, which was about 3 months old.
4th: 5 June 2008. It flew to my bed in KL. Alive until today.
Hmmm, and there're still numerous encounter with Mantis when I went camping but I didn't take them down as they didn't come to me.
and i really love to see when they hunt

Somehow, seeing them chewing the struggling flies brings me satisfaction. Especially those bugging insects that would ruin my life.lol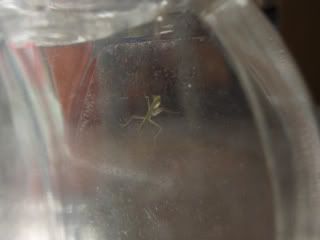 When it was still a nymph.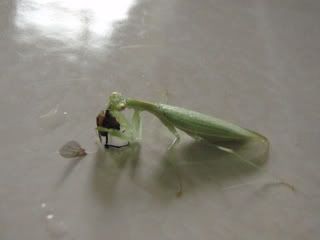 It grew up a lot after 3 months. Somehow it died of some kinda infection. I wonder any vet that treats mantis? The picture showed the last flies that it ate.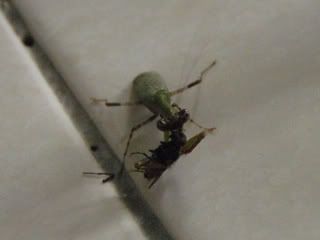 The mantis that tried to hunt on my bed. lol

Anyone who share the same passion for mantis? ;)