lol. I haven't watched Cloverfield personally but from the comments of friends, it seems to be a movie that causes nausea. lol.
Well, after going to pantai keracut for the
first
and
second
and
third
time, I went there yesterday for the fourth time together with another 3 friends.
In the car, we talked about the movie Cloverfield on the way to Pantai Keracut.
Joe
commented that the movie is too shaky and hard to be appreciated as it was shot as if someone was holding the camera with the monster running around.It's something very different from those movies that involved a large team of crew, the making of the movie needs only actors and actors act as cameramen too. (well i donno the making but come to think of it, u don't purposely make a crate that can 'shake' like human hands to place the camera on it)
After a while, we got to the entrance and started the journey.
and when we reached the beach after 44 minutes and 37 seconds of hiking, we started taking photos.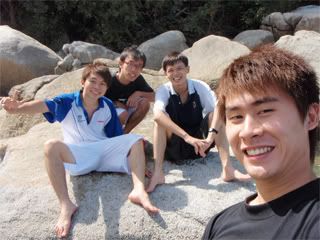 kae vin, clement, ah hau,
joe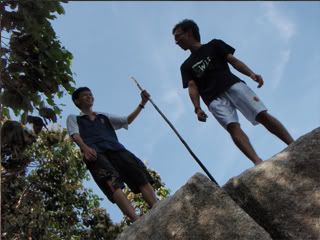 Standing high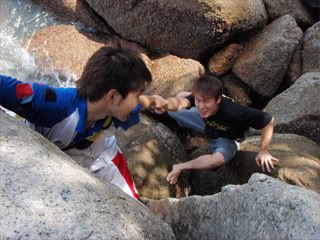 We r always good at acting, lmao.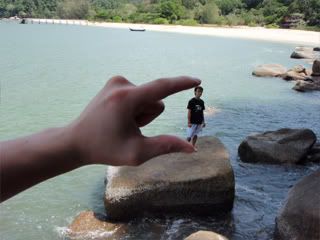 No photoshop involved at all. lol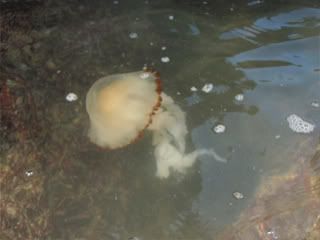 and we saw some jelly fish. Well there were plenty of them there. and thinking of jelly fish, we thought of monster. and thinking of monster, we thought of cloverfield. and thinking of cloverfield, we thought of shooting the second episode of it since this movie is shot using an ordinary camera by ordinary people and shooting a video is somehow more fun that plainly taking photo. Besides, my camera is shockproof, crushproof and waterproof. It sure could do much better. lol.
So we climbed to the 'cliffs' (a bit exaggerated to call those stones like that) and pretended as if we saw some King of Jelly Fish and it was chasing us. (well, u won't see any monster in the video, it's just a 6 minutes short clip la come one, what do u expect? lol) So to make it more fun, just try to imagine there is a huge and juicy jelly fish chasing us ok?
Well I edited this movie. Added some effects and music. It's sure entertaining. It's 6 minutes and hopefully u enjoy it. J.J Abram, no offence! lol.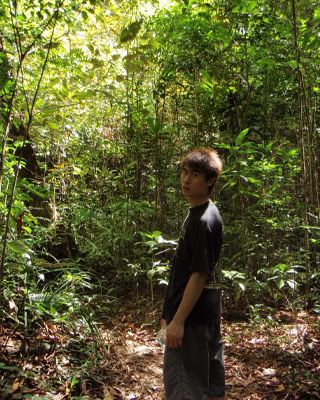 After completing the movie, we made our way back and went for shopping and movie (oh we watched P2, not cloverfield anyway. lol)
and I love Pantai Keracut XD
oh ya, Happy Chinese New Year! :D