It's Olympus Stylus 795sw and I bought this camera on 9 Jan. I went to Low Yat Plaza and hunted for it for about an hour until I got a satisfactory price. Well, this is a point and shoot fully automatic camera. The review online doesn't give really good comments on it. However, the reason that I bought is because of its toughness. People usually don't bring the camera to some wet spot like waterfall or beach or cave exploring if they are going to have fun there! So it's always been 'play' or 'shoot' dilemma for outgoing people that loves photographing! Therefore with this tough little camera, I have no need to choose between playing or photographing.
According to Olympus, this camera is waterproof and it can go up to 10m underwater without any casing (amazing huh). and it doesn't just end here. It can stand up to 100kg crushing force and 1.5m shockproof. Meaning you can drop that thing and it's still in one piece. So I got the camera at 1280 with 2Gb memory card. Well, I guess the price could still be lower if I was persistent enough to go to a few more shops and challenge them with: "The shop I went before gave me this price. What price can you give me?" hahaha. I'm so evil....
Right after buying the camera, we went to Karaoke @ green-box @ SG Wang. and of coz..i took some photos to try the camera out.
Eujin, WeiQuan, Ch'ngCh'ng and KL.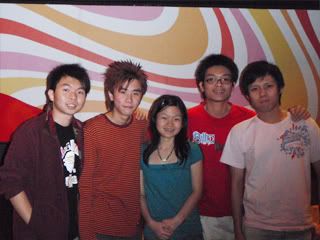 Took a picture after the karaoke session~ haha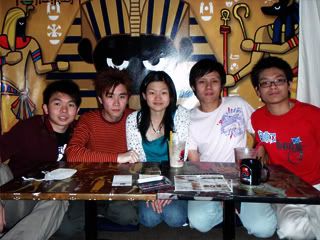 Then we went to Gasoline to while our time away playing pokers and Stacko
lol nice place but the food there was so-so.
and the next day. I went to Sungai Sendat to do some site survey. Well gonna do some advertising here. Setapak Gospel Centre is gonna hold a Survivor Camp @ Sungai Sendat @ 15-16 March 08 for teens! So those who age between 13 - 18 please feel free to contact me for the details :D
I had never gone to this place before. I saw it in Sheng Wei's facebook photo album and the photo look awesome. So I decided to go there to do some survey and it was superb!!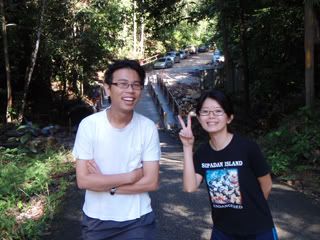 I went there with Mr. and Mrs Kwok~
and the 2 teens - JunHong and Wen Hao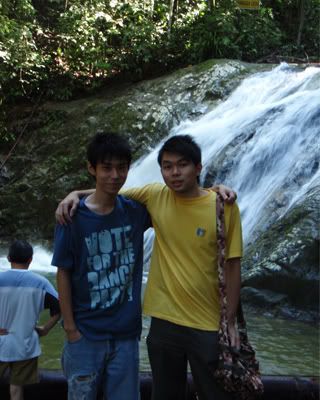 and Sheng Wei and me! Look at the waterfall behind me!
I was about to jump inside. However the upstream of this waterfall has got a whirlpool and Sheng Wei said that accident happened there and somebody was drowned. Look at the pic below
Saw the whirlpool?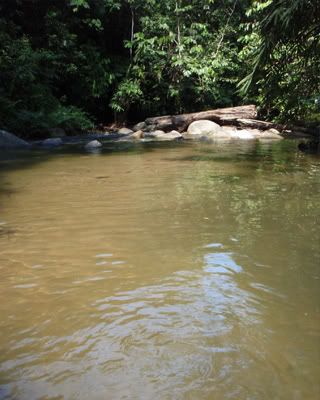 The camps are gonna be set beside this stream.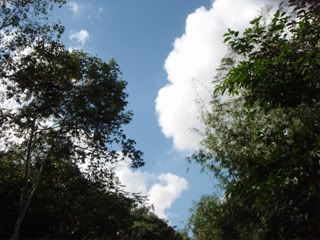 Some of the view there.
Most probably will be our campsite
This is the table that Sheng Wei said he built last time when he came here for camping
and I was leeched!! Look at the bloody leech!! Fat and juicy!
I bled the way home...the bleeding couldn't stop 'cause of the anaesthetic saliva of the leech! ~ T_T
On the way home, we stopped by a nice waterfall~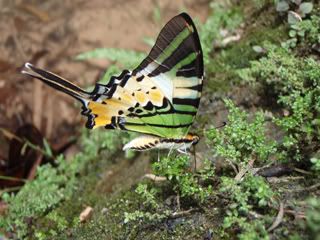 We saw a pretty big butterfly there and....
The waterfall!!! Awesome huh?
and then we dropped by another lake on the way home..
Nice and peaceful feeling~
So these were the very first batch of photos taken with my new Olympus. Hopefully it can last forever so that I have no need to change a camera again! haha XD