Malacca is a small historical town with lotsa nice food in it. and I went there for the first time on the past wednesday.
I am LUCKY enough to have a NICE Malaccan friend who is willing to accommodate me for a couple of days. He is my classmate,
ah Guan
aka Mr. Malacca-Food-Is-So-DAMN-Nice! hahaha.
Well, I still remember ONE freaking year ago, when
ah Guan
and I were in the library supposing to be studying for exam and then we started to talk about food and that was the time he made me wonder about Malacca food.
Since then I continuously bugged him about bringing me to Malacca to have a taste of the Oh-S0-Delicious Malacca food.
and then eventually, I went to Malacca and stayed in
ah Guan
's house and got a taste of Malacca!
and I'm sharing 50 over photos in this blog. I guess the most I have ever posted. So sorry to limited bandwidth user. Anyway, I have resized it so it should be ok.
and another very serious warning for dieters and those who are fasting: Those photo is saliva-inducing, appetite-arousing and hunger-stimulating. Please do not proceed before you regret!
---
Day-1, 19/12
Reaching Malacca at about 5pm.
Sunset in Malacca.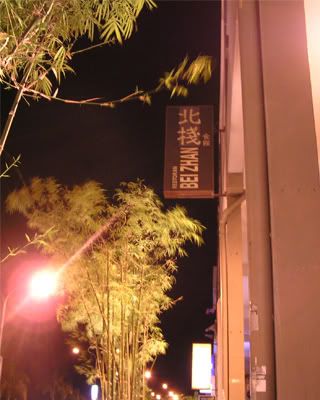 Bei Zhan, a very famous Chinese restaurant in Malacca. Have to make reservation before dining. So lucky on that day it was Jeremy's,
ah Guan
's little bro's birthday. So I got a chance to dine in it. LOL.
According to
ah Guan
, this restaurant won the champion for Fried Rice Competition in Malaysia. Well it tasted good
The self-made Taufu.
Asam Fish. It was really nice!! The sour gravy with fresh fish.
Pao + Kou Rou.
Kou Rou - It's a kind of Chinese marinated pork.
Sandwich the kou rou in the pao and it tasted superb!
Then later we went to the clock tower @ Malacca Christ Church, took a lot of photo there
This is me and
ah Guan
I'm gonna be rolled over!
Gerak Khas! Ann,
ah Guan
and Jeremy the b'day boi!
---
Day 2, 20/12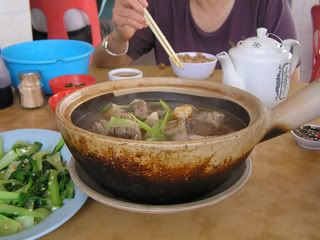 The second morning, we went for Teochew Bak kuk Teh @ Melaka Raya for brunch. Taste differently from Penang and Klang's. What's the difference? Go taste it yourself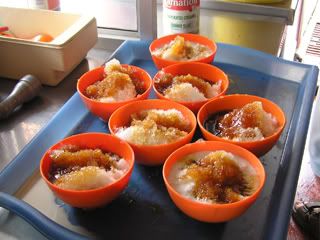 Then we went for some cendul.
Cendul with Malacca Sugar. You won't know what's the taste until you tried it.
Then we went back to Bukit St. Paul
ah Guan
said the statue's hand can grow back~???
Taking photo with one monument with words that I can barely understand.
For dinner,
ah Guan
's mum cooked and he bought some side dishes.
Ikan Bakar. How do you say it in english? Grilled Fish? lol. It's stingray + squid.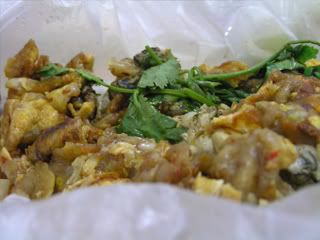 O-jian. Fried Oyster. Similar to Penang one.
and they said, you shouldn't miss out Satay Celup if you go to Malacca!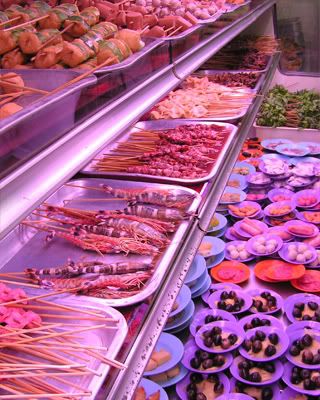 Satay Celup. Satay means satay, celup means celup. hahaha
Celup means DIP. Satay means skewering food on a stick.
Only a small part of what we had eaten!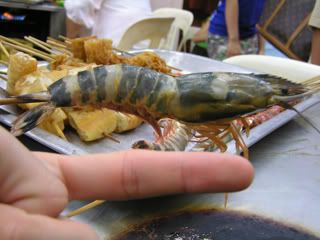 Big prawn.
ah Guan
said if we ate up to a certain amount, they'll serve u with bigger one!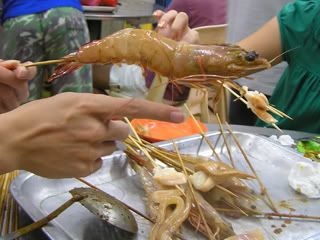 Big enough?
Aftermath - I peeled off all the prawns! Using fork! Unbelievable huh? I ate about 30 sticks of Satay!
Front row: Ann,
ah Guan
and me.
Back row: Jeremy and ZenC
---
Day 3, 21/12
Well, this is normal chicken of chicken rice....but wat so special about it?
It's the Chicken Rice balls! Chicken rice ball is made of rice and amazingly, they're all of the same size! Looks cute huh? and the taste? Taste like rice la.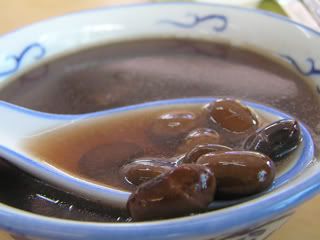 and it came with this black bean soup, taste good, unlimited free refill!
and then, how could you go to the Historical Town of Malaysia and never go to the museum? (As a matter of fact, there're tons of museums! and all have to pay per admission!)
Therefore, I chose the best looking museum, Maritime Museum that resembles a ship. (Made me think of the restaurant, The Ship in Penang)
Looks great huh?
and there're small ships in this big ship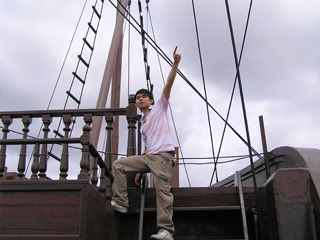 Captain Me!
The crews. lol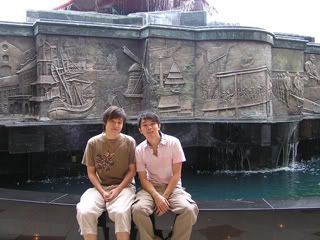 Inside Dataran Pahlawan Mall.
Bukit St. Paul.
Merdeka! The place where our first Prime Minister declared the independent of our country!
This church was the only thing that I knew about Malacca before I went there.
A Famosa at the foot of St. Paul's Hill.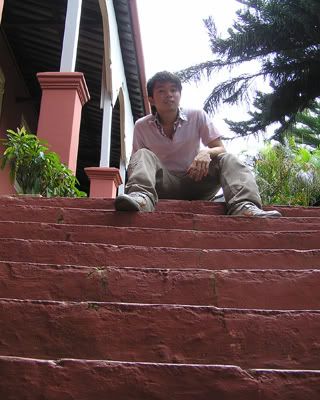 Somewhere beside some museum
A Famosa..
Then, we went to graveyard side Mee Goreng and cendul.
Yeah, we sat literally beside graveyard. See the tombs?? oh stop looking at Jeremy already.
Mee Goreng
Cendul, tasted not as good as the previous one
We went to Jonker Walk at night. Well, it's kinda like Petalling Street. Bought some local products there.
After the Jonker Walk, we went for some Wan Tan Mee. The noodles tasted very nice.
---
Day 4, 22/12
Lunch time,
ah Guan
's mum made some Mi Hun Kuih with some fried onion toppings.
Then
ah Guan
's mum made some dinner.
Then we went to a very huge local product shop, Tan Kim Hock. Really huge...
After that, we strolled around the seaside at Portuguese Village which is located nearby to his house.
My bus took off at 10pm, so it allowed me to have my last bite in Malacca before leaving.
Ice Kacang with Malacca Sugar.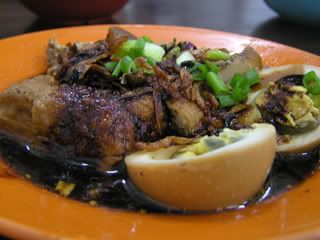 Taugua and some pork and 2 slices of boiled eggs in marinated gravy.
and Duck Noodle!!
Last but not least, a very big thank you to ah guan and his family for being a nice host! I'm sure loving Malacca. hahaha~
oh ya. ah Guan asked me to rate the food. So the champion will be....deng deng deng deng...The Asam Fish in Bei Zhan Restaurant. The first runner-up one will be the Duck Noodle. The second runner-up is Satay Celup. Well, for consolation prize, it'll be the Mi Hun Kuih and Cendul and Wan Tan Mee!
By the way, are you hungry now? haha.