So the just past Raya Holiday I went to Batu Feringghi, Penang. Basically it's a place that I used to go there for some camps every year when I was still in Nibong Tebal.
The theme for this church family camp was 'Under One Roof' and it really made me reflect on my life.
I'm 20. I might be still young in the eyes of many. But it's not gonna last. The clock ticks away every time I take a breath. Life's passing away.
I'm 20. Fortunately, when I look back on my life, I can proudly say that I didn't waste my time away. There are lotsa wonderful and precious memories in my head. There are names that I'll never forget. There are countless stories that I'll never get bored of telling. There are infinite happiness and sorrows and tantrums and laughters and tears and hugs and fights and hardship and temptations and hatreds and love that form ME, myself. and most importantly, I decided to, and I'm, clinging to a faith, that put on a pair of wings on me.
I must admit that there are hundreds, perhaps thousand of people that influence me. But what make me strong and give me strength to stand up every time I stumble and fall, is my faith to a ever-loving and ever-accepting God. I'm broken. and He loves a wretch like me.
It's beyond words, I guess, especially for me, an English-as-a-second-language person. The world is every-changing. U will not know what's going on the next second. but somehow it brings comfort when I hold on to something eternal.
I'm going to commit my life to an eternal business, which profit is unseeable. No worries, I'm still the same me. Not some Holy Saint or whatsoever. It's just a decision that I have made. I still study and work and blog and sleep and play basketball and crack jokes and laugh and cry and shit and eat and shout and travel and run and jump.
It's just dedicating my life to someone who loves me so distinctively so irresistible so eternally so much.
I hope when another 20 years, 40 years,even 80 years (if I could live that long) have gone, I look back and I feel no regrets, at all. I might make mistakes, I might choose the wrong thing, I might take the wrong step, I might turn the wrong junction. But as long as I grip my faith as firmly as I grip my life, I'll feel no regrets.
Eternity is just more than life.
and u, who read up to here, just wanna say that if in any way I have insulted u, please accept my sincerest apology. I didn't mean to hurt u. Really.
and please don't leave my blog with a puzzled and confused thought. Here's some photo to light up ur days~ enjoy :D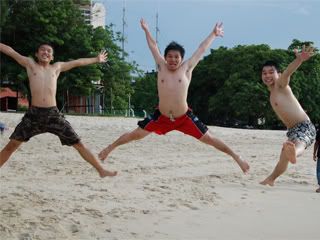 A beach jump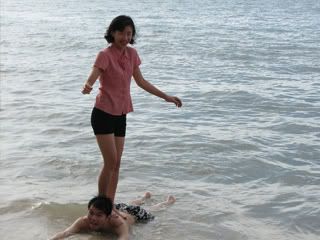 That's painful la come on.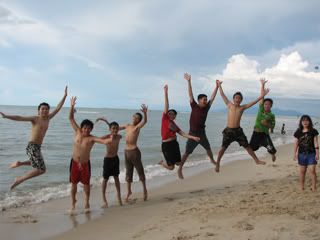 Why was she not jumping?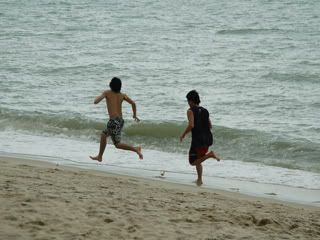 Running for my life!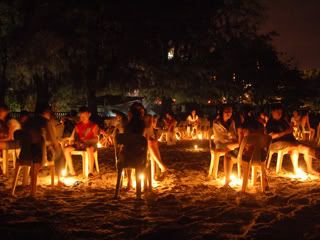 Beach Talk
Youths at Youth Park! (sad to say that I'm the OLDEST in this photo~)
Oh that's so romantic~ (it ended up we crushed into each other =P)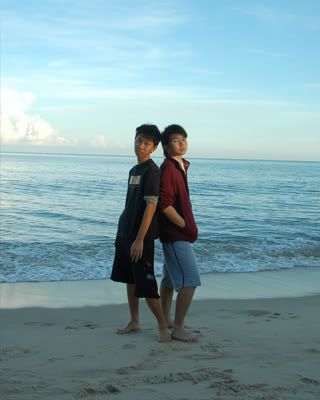 We just love taking photo!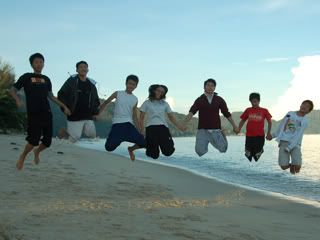 We just love jumping, don't we?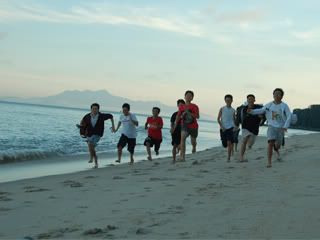 and we love running, too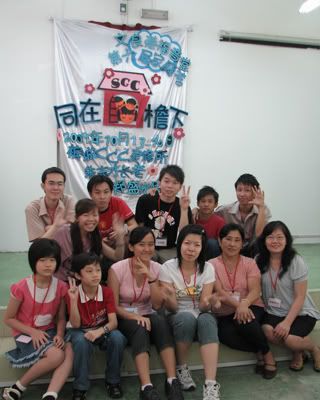 My group member, can see a wide range of age (that's why we call it a family camp~ hahaha)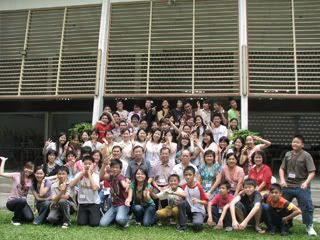 Gonna be another part of my loving memories~!