So the exam has come to an end, for year 2007 at least.
Last semester, I ended my exam with more anticipation and excitation, simply because I had a trip to
Mount Kinabalu, Sabah
.
This time, I have a totally different feeling with the ending of this semester as I'll have to prepare myself to step into a unknown world of working.
For your information, I'll be interning from October until December. It's a company which involves Electrical stuffs and I hope I'll be learning something there. I'll have to polish my leather shoes and wear a tie to work five and a half day a week. To be honest, I'm not prepared for this sudden change. I feel like myself is a kid who has just graduated not long from high school. I'm not yet too far away from being a high school kid, who should fill his holidays with traveling and Summer Camps and movies and basketball and friends and mamak stalls.
It all happens so fast. Or am I being too emotional? Maybe as a university student, it's a transition period between stepping into the real world and the yipieyaya world. It all happens so fast. I'm still not ready to see how real the real world is. Haih. Perhaps I'm thinking too much again.
Let's switch to another channel. Today, right after exam, my classmates and I went to Green Box Karaoke, Sungai Wang. It's 3 hours package, from 12 to 3 with lunch and free-flow drinks and it's only 10++. We had some fun there. Yelling and screaming and off-pitching. Lol. There were 15 of us but it was really nice. Some of them were my new friends as they came in from TAR college to join us for degree program. They'll not be having the 3-months semester break as they have got some extra subjects to study which I've already studied. Therefore it was also like a farewell as I'll only be seeing them next year.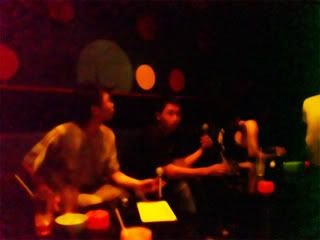 look dark and creepy inside the K-box?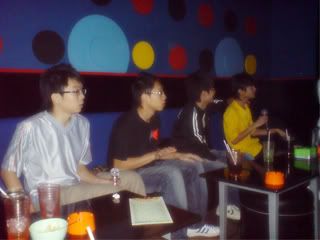 haha...ordinary room only lar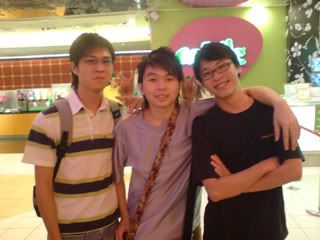 ah hong, me and ah ting and alien hands behind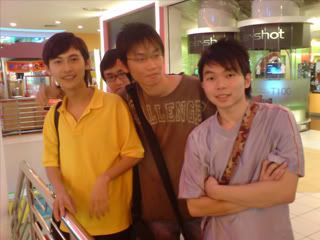 s-ming got caught peeping at hot chicks (even when taking photo!)!
k-yung, s-ming and me and hidden ninja k-pin behind
Time to go. Enjoy your life.