I went to Mount Kinabalu. and I reached the top. and it was tough. and it was a pleasant jounrney. and it was my first flight.
so, the story started like that.....
---
Day 1 (21/05)
At 4pm, we took the LRT to KL central and met my fren, KY there.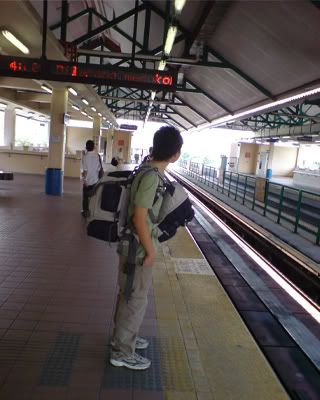 It was obvious that we were excited. Why? becoz the flight was at 915pm and we reached the airport at 6. hahaha. so we went for McD...
After reaching Kota Kinabalu, Sabah, our travel agency guide had been waiting for us...so he picked us up n sent us to a backpacker inn.
We rested and prepared for the climb the day after.
---
Day 2 (22/05)
We woke up at 6 and were shocked by the warm and bright and welcoming sun light. The sun rises at 5am in Borneo...unlike peninsular Malaysia, the sun rises at 7am. hmmm, it somehow made me feel as if I was in another country.
and, we were ready for hte climb.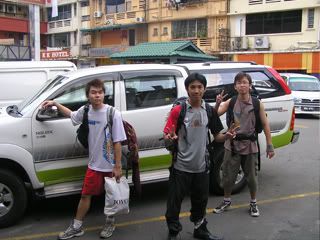 We were taken to Kinabalu Park by a Toyota Hilux. Very comfortable indeed. and it took about 2 hours to reach there.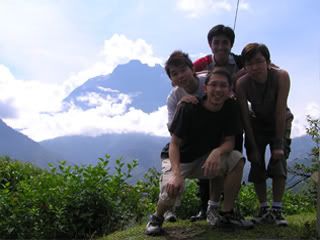 In the middle of the journey to Kinabalu park, we passed by this and it was a rather nice angle of the peak of the mountain..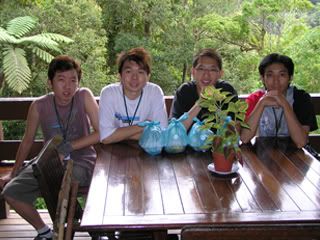 from the left, KY, me, Zc, and Joseph.
We reached Kinabalu Park office, and we registered ourselves there. We each got a name tag with our own name on it. It was a pass. Well, we got a packed lunch too...
and it took another 40 minutes drive to the starting point of the trail. We took the Mesilau trail instead of the Timpohon trail, which is 2km shorter than Mesilau. and we decided not to hire any potter to carry our stuffs, since it was an adventure! (btw they charge rm7 per kg..)
and my bag was heavier than I thought....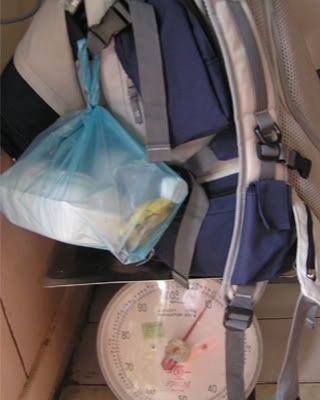 freaking 10kg!!!
hahah~
So the journey started....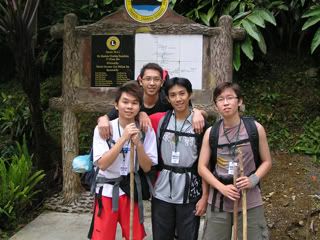 at the first KM, it was misty....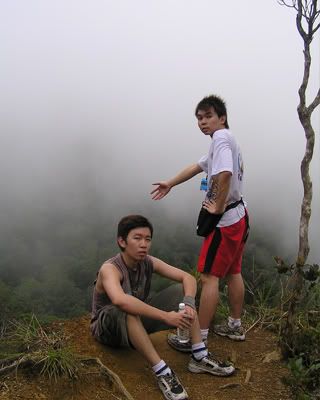 and it was always me yelling for rest....coz i have the lamest stamina and the heaviest luggage among four of us....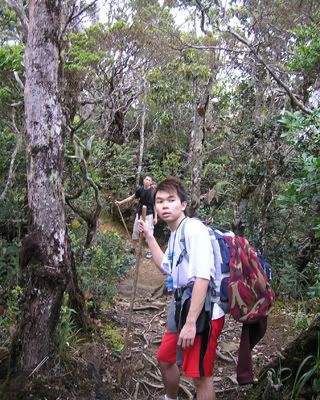 and it started to rain after about 2km of the trail....so we put on our raincoats and I changed my shoes to a rubber one and tied it with plastic bags...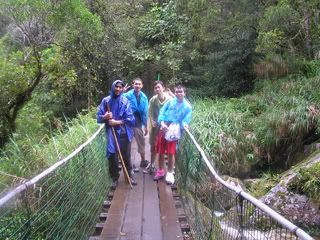 and we walked and climbed and walked and climbed and walked and climbed......
then...it started to rain even heavier after the 4th km....and the downpour showered and the muddy water streamed down and our feet were all wet...and our finger and toes froze.....but inside our chest and our back were sweating....the feeling was really weird.....it's like carrying a 10kg bag and wearing raincoat and walking up a sloppy road in an aircon room with shower turned on....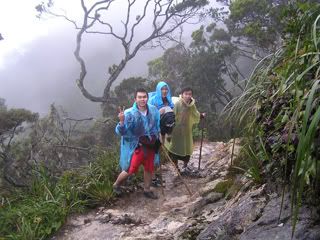 and we encountered lotsa of strange and geli (some were nice) flora and fauna...this was one of them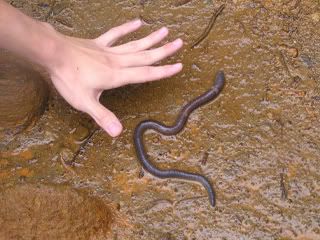 and we walked and climbed and walked and climbed and walked and climbed......and the trail was like endless....so whenever i felt like giving up, I'll motivate myself with Fried chicken, hot water, massage, hot chicks, nice bed and whatever that could bring inspiration. lol.
and we reached the 6th km....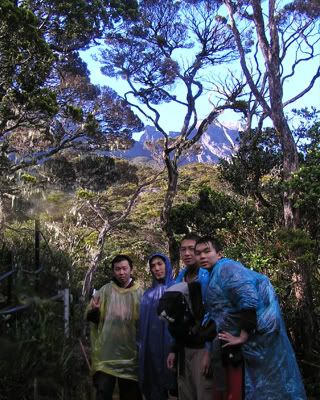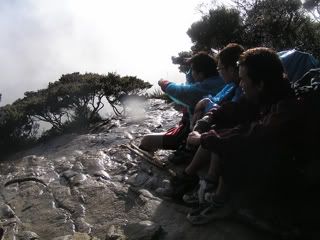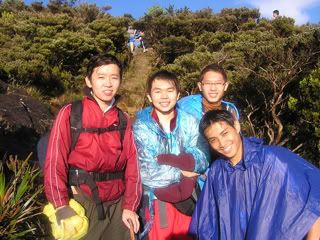 You can see that the plants started to change. I guess no place in Malaysia could grow plants like this. and it was chilling.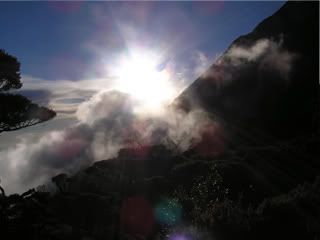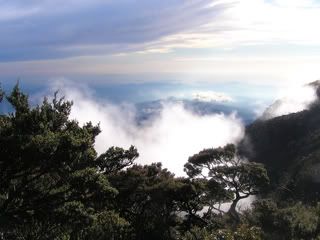 It was like in paradise. and I was half paralysed...finger and toes numb and muscles ache.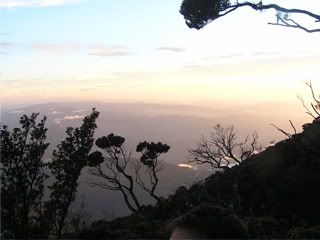 Sunset view
Then after another 2km, we reached Laban Rata Resthouse. and it was the toughest last 2km.....not to the peak, but only to the middle....so we reached there at about 7pm and rested there. We had some food from the buffet, and we rested until 3am to start climbing again.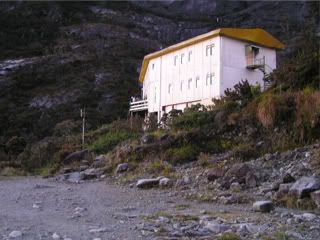 Laban Rata resthouse
---
Day 3 (23/05)
Joseph was not feeling well. Some altitude sickness syndrom, like dizziness and nausea. Anyway, after resting, we dicided to climb the peak together. So at 3am in the morning, we took off the peak. We were equiped with headlights, windbreaker, and thick gloves and socks.
Unfortunately, only me, zc and ky made it to the top. Joseph didn't make it because he's too dizzy. and basically the 3 of us struggled to the top. We were like breaking down every 3 minutes. It was a physical and mental challenge...
and we were able to catch the first glimpse of the sunrise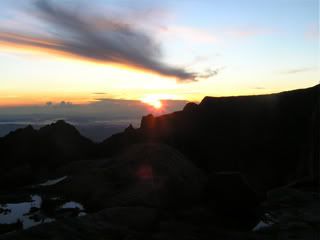 and we climbed and walked and crawled.....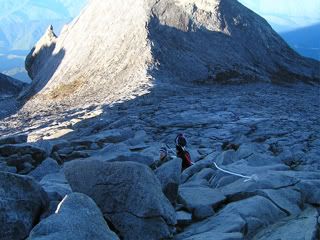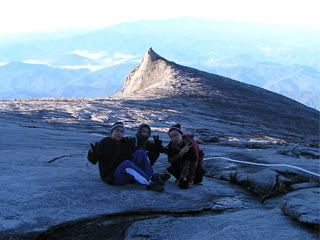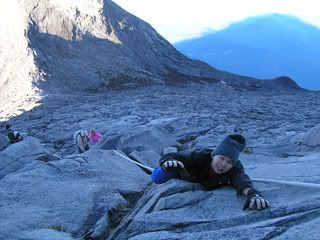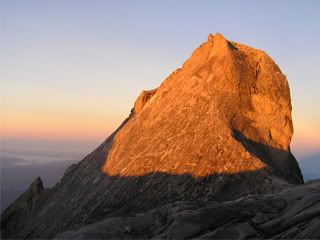 and we were so close to the highest point, Low's Peak...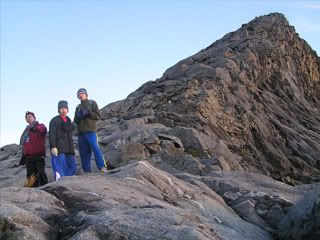 and we crawled and crawled and crawled....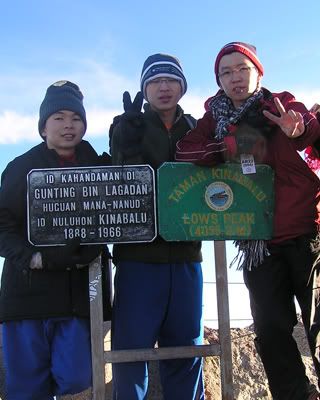 and we finally made it to the top!!
and I looked so dumb.....
and it aint finished yet....we had to go back to Laban Rata, to have our breakfast, and walked all the way down via Timpohon trail....and I almost went amok thinking of another 6km to go.....
Apparently we walked down successfully....and took this photo at the Timpohon Gate with our mountain guide, Petrus Duli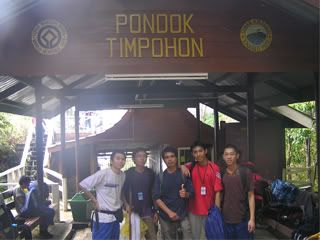 and we headed straight back to the hotel, Beverly Hill in Kota Kinabalu Town...we went around in KK to look for dinner...and finally we had our dinner in the Filipino market...had some mee bakso....
and we slept like a dead fish in the night...
---
Day 4 (24/05)
Woke up at 7am, preparing to go to Pulau Manukan at 830am
It was such a magnificent island!!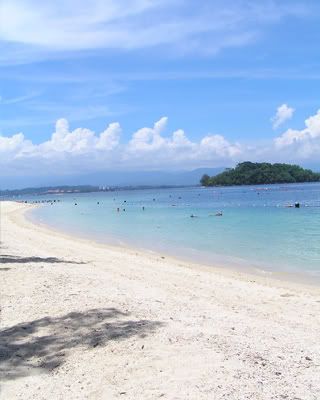 Yet another paradise!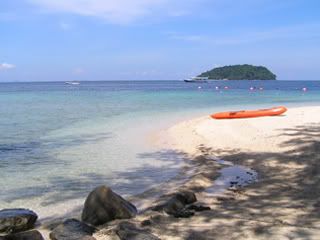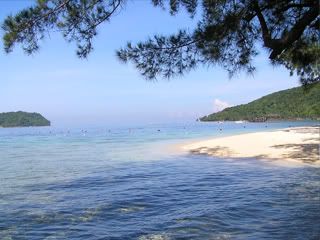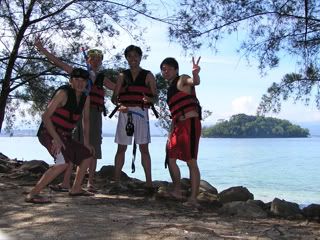 and we were ready for snorkelling!!!
The coral view was superb at the island...it dazzled us..in my opinion, it was far nicer than Pulau Redang. But the fish were not as much as Pulau Redang so it is a tie.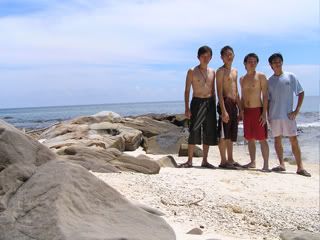 We wandered around the island taking photos after snorkelling...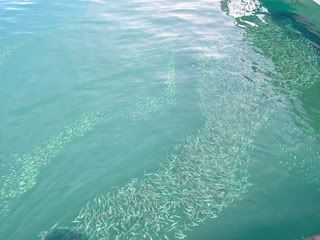 and some fish feeding too~!
after some swimming and sun tanning...we went back in the afternoon.
At night, we walked around KK town taking photos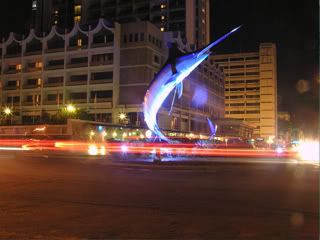 and I like this one...
there were plenty of them but I guess no need to upload so many here since it was juz some ordinary nice night view of city.
oh ya, we watched Pirates at the cinema there too...and the movie sucks!
---
Day 5 (25/02)
Woke up at 8, ready to go home, the plane was at 1230pm....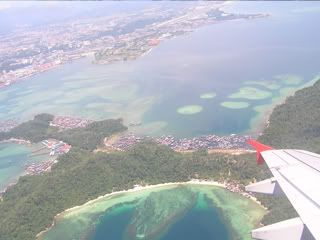 Time to say good bye~!!
---
phew......so above was the summary of my trip to Mt KK, Sabah. Of coz there were a lot of details cut off else it's gonna be too freaking long.
but I have experienced something I'll remember for the rest of my life and I have seen something that I'll treasure so much. Apparently, I have seen how friendship shine during hardship. Without my frens, I knew that I couldn't make it even to Laban Rata, leave alone the peak.
It was an unforgettable trip~! and all of u, please try it! (but make sure u r in shape and fit! lol)
I CLIMBED MOUNTAIN KINABALU!!!!! YOOOHOOOO~!!!!