I was on the top of Fraser's Hill with my church mates on the new year eve. A few hundreds meter from the sea level. I guess it's the coldest new year eve i have ever had. lol. Then on the new year day itself, we went to an orchard with a variety of fruits in the middle of Karak-KL highway. Wat attracted me about eating fruits in orchard was u can climb n pluck n eat n throw. Kinda like monkey. lol.
Live Sex Show on Fraser's Hill!!!
Merciless Chicken Skewer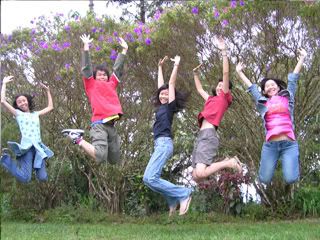 On Cloud Nine
I'm 'redder' than the flower..
No...this is not the way to eat durian....
U have to open a durian like that first....
Ya.....this is the right way to eat a durian....ignore the tongue though....
It tasted better eating mangosteen on the mangosteen tree..
Flower..