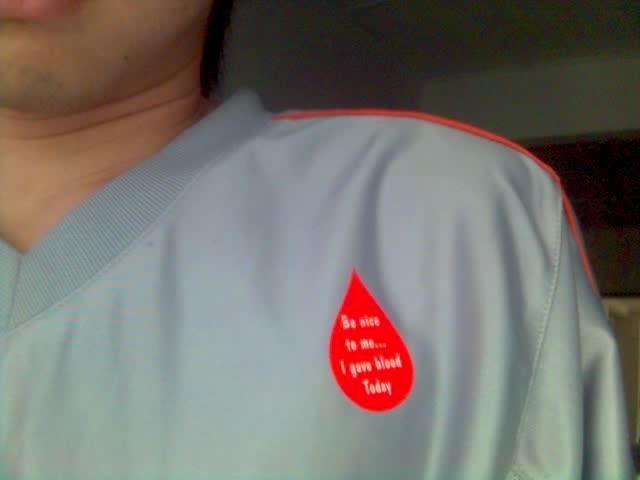 Be nice to me. I gave blood today.
I m donating my blood for the third time. Read the
first
and the
second
.
blood represents life. no blood, no life. n everything the body needs is tranfered by blood. oxygen, hormones, water. u name it.
Is sorrow also tranfered by blood? is the heartbroken feeling actually tranfered to the whole body by blood? how come when i felt sad, my whole body was strengthless? as if my stomach was blended in the blender and my head was soaked into high concentrated hydrogen sulphate?
it always felt better to let the sorrow flow out. i tried tears. but it just refused to come out. no matter how hard i tried. n i tried blood. it felt so nice. 450ml of blood was streamed out in 15 minutes. which means at the rate of 0.5 ml/s. i cant never cry that much of tears. to replace tears with blood. is that a bit perverted? but it at least drains my sadness. i guess the hormone that is responsible to make me feel sad was at least reduced.
the law of physics says that coldness and darkness are actually non-existence. cold, becoz there's no heat. dark, becoz there's no light. it's defined so. n i guess, sadness doesn't exist too. sad, becoz there's no happiness. to avoid coldness and darkness, there has to be source of light n heat. n to avoid sadness, there must be a source of happiness.
i think i m right.