I've encountered YUI's music.....A 2005 debut singer with not more than 10 songs...but all written by herself. A girl with a guitar, isn't it something eye catching~? after reading her story, i donno, whether it's written for commercial purpose or wat, but i m quite impressed n.....Salute~
this is her story (adapted from
ky's secret base
)
YUI (
Official Website
)
Profile:
Birthday: 1987.3.26
Horoscope: Aries
Birth Place: Fukuoka
Height 155cm
Blood Type: AB
Favorite Place: 新宮の海 singu no umi. (a beautiful beach near her hometown)
Hobbies: Watching movies, reading, acoustic guitar, badminton
Chapter 1: The Encounter With The Music
Hi! It's YUI. My debut single "Feel My Soul" released starting from this week. I think i probably will do "Self Introduction" over 6 times every week in order to let more people to know me.

1st chapter: The encounter with the music.
Me, under my mother's influences, like "things" that sing since i was young. Because i always listen to the song, when my mother's car stereo broke down, i still completely remembered the tune. I sang it in my car, in my room, in the path returned from the school, in the bath, everywhere. Sometimes it annoyed my mother and she goes "It's NOISY!!"
Then, under my mother's influences again, since junior high 3rd year, my diary has changed to poem form. In university notebook, i wrote anything that came to my mind, wrote anything i see. And now about 1 row in a bookshelf - is how much i have wrote.
There're days i would like to listen to all sort of music and tune, i went into the CD shop. Though i would like to buy them, there's not enough money allowed me to do that. I ended up listening to the new songs using CD-shop's song machine.
When i listened to Avril Lavigne debute album, i was shocked. It's totally different from the tradition Japanese music i listened to all the while. It give me an impact when i learned that her age is close to me and she wrote all her song herself.
With that, i told myself "I want to write my own song, play the guitar myself too". This strong feeling was no longer can be hold down.
"I will choose the path of music" i told myself that while totally not sure whether if it's good for myself, or how it should be done to become a musician.......
Chapter 2: Journey to the Music
Hi, it's YUI. "Fukigen na Jiin" drama finally started. Reading people saying "I watch the drama!" and their comments in BBS/forum makes me happy.
Well, this week i feel like talking about my "Real Journey To The Path of Music"
Although with the strong will of "I want to take the path of music" in me, during the time when i just entered my high school, I was not been able to concentrate on the music, I'm blurred. There was even times that I persuaded myself "guess there's no way I can do music, can I?" However, when I saw myself suffered again and again on it, my mind was set "After all, I still want to proceed to the path of music. "
So I decided to leave the high school and pursuit my own path of music. I handed everything to god on the days where I was like "What should I do now?"
There were a lot of people doing live performance at the street. Among them, there's a band that caught my eye. After seeing them a while, I asked them "What can I do to pursuit my music career?"
The people of the band looked at me surprisingly, and told me that there are cram schools that teach composing and guitar. After that, miraculously, I enter a music cram school – VOICE.
From there, I started to play guitar for the first time. I learned how to press guitar chords, compose melody and song writing. I practice guitar a lot when I returned to home.
At night, I went out and practice the song and guitar because it has becomes a n annoyance to the neighbour. However when I practice them in front of a factory's shutter, it made people there angry too. If only there's a place without people…… thinking of this, I took my bicycle and rushed to Shingu no Umi and the rice field near by while holding my guitar single handed. (this is also the place where my Indy single It's Happy Line took place.)
Until now this is still the place I like the most. It's the place where I can sing, it's the place where I can settle down.
read more.....
my thoughts
~ she likes michelle branch n avril lavigne....which i like too~
~ all her songs r written by herself...
~ she plays guitar exeptionally well, for a beginner
~ in case u donno who is she, she sang the new ending song of the anime, BLEACH.
~ i like her "feel my soul" the most. it'll autoplay, soon, if u r using 56k modem n u've reached here already.
~ she's at the same age as me.....but she's daring n gutsy enough to do something wild to go after her dream.....she's juz an ordinary gal....yet she's no ordinary becoz she's sure of wat she wants. if anyone asks me, wat is ur kind of gal? my answer will be YUI~ ;)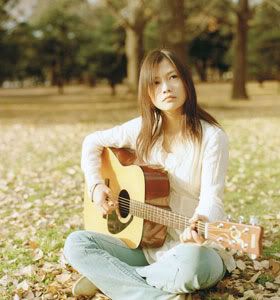 she uses Fender guitar.
she is not smiling, y?
~
I took my bicycle and rushed to Shingu no Umi and the rice field near by while holding my guitar single handed - YUI