i arrived juru toll at 1920~ my dad came fetch me~ and the very first thing he asked me was, (i betcha u'll never guess
wat he asked)
"do u wan a digital camera? let's go buy one~"
*puzzled n scratched head* "har?"
"i saw one very cheap in carefour flier, let's go look for it"
then we went, n we bought~ it's a local brand, Genius, from Ftec~ 6.3 megepixels, but no optical zoom n the CCD n ADC r crappy...anyway, this is a rm300 digital camera, wat do u expect?
here is some comparison that i made between Genius G-shot P611 n Olympus Camedia C760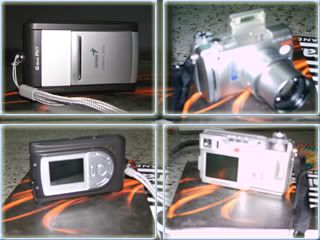 this is taken to test the minimum distance that the camera can focus....i used c760 to take p611 n vice versa (right: taken by C760, left: taken by P611) see the difference? p611 lost it focus n blured. and the lens of p611 do not have variable shutter time therefore when u flash a near object, the exposure of the light is too high..the reflective part is only a whole white chunk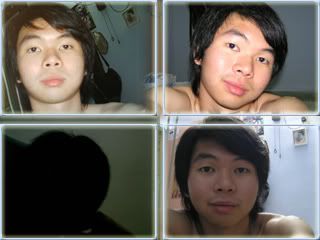 self potrait. the right one was taken using P611 n left one was taken by c760. the upper 2 was taken with flash, the bottom 2 no. as u can see, the nearest distance for this P611 is about the length of hand, which is considered far. n the colour threshold..u can see the difference of the contrast of the colour of the 2 photo on top. while taking without flash, P611 sucks like hell....this is because it doesn't auto-adjust the shutter time n the exposure of light n it CCD is way too not sensitive..therefore u only see a figure. this doesn't happen to C760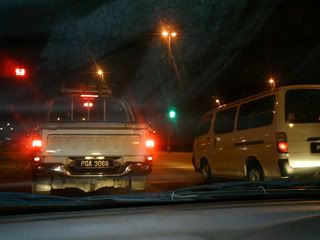 anyway, this photo surprised me. i was taking this photo randomly when i was on the way home, n it was quite clear. (the light blured though) this is mainly because it's shutter time was not auto-adjusted hence the lack of light of the surrounding doesn't affect the shutter time (usually u have to use tripod to take night scene coz it'll be easily blured as the shutter time is long)
i m not a professional photographer....it's juz some opinion bout digital cameras. if any pro read this they sure will laugh their asses off....:P i m still using auto camera. n i stil haven tried P611 on daylight. i believe it'll be much better in day light n out door....
ok, off this camera thing. officially i m home~! i was not here from 23may-16september.left home for not a very long time, but still, i missed a lot of things~!! food, frens, family.....n it's always comfortable to be at home.....
17sep-9october is my hols...hopefully i can make full use of this 3 weeks~ :D
well, i went to the church for a while as they were having some kind of special meeting for Moon Cake Festival~ all of them said i got skinnier......hahah, maybe my stomach refused to digest the food in KL...coz i remember i ate a lot~ hahaha~ anyway, it's time to be nice to my stomach n my taste buds~ oh yeah, my long hair shocked my mum~ hahahaha