I've downloaded the whole seanson 2 n finished watchin it in 3 days.
Compare to season 1, the task given in season 2 seem to be tougher overall. But the people in season 2 sure r weaker than season 1. No spark can be seen from them. The first episode i would say Troy is wonderful, Amy is cool, Kwame is steady, Bill is a quiet monster that ate up everyone at last~!
the second season, i can kind of smell the stability of Kelly from the beggining. but i m suprise with the final 4
-> kevin, sandy, kelly, jennifer. however, from all the all 2 seasons, i found that i like Andy the most. He is only 22. the youngest candidate ever. He managed to squish into the final 6. That's a great things.
I like Andy becoz his innocence, courage, creativity, ability to visualize something, vision, passion n good observation. However, he was fired because as a National Debater, he was outdebated by 2 women~ that's sad for him. n I totally don agree with his taste for design a trendy stuff. to be prefectly honest, he doesn't have any sense of art.
n Donald Trump seems to sayang him so much~ as he is a Harvard graduate. however he'll never be the Apprentice coz he is too lack of experience. but he has shown his true colour. even without experience he is able to overcome others so-called "experienced and smart" candidates and enter the final-6.
Yeah, Andy, i wan to be like u~!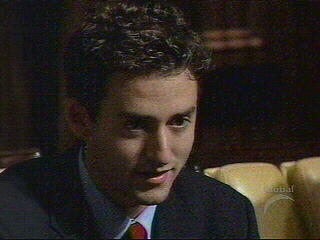 screenshot of Andy

Andy Litinsky